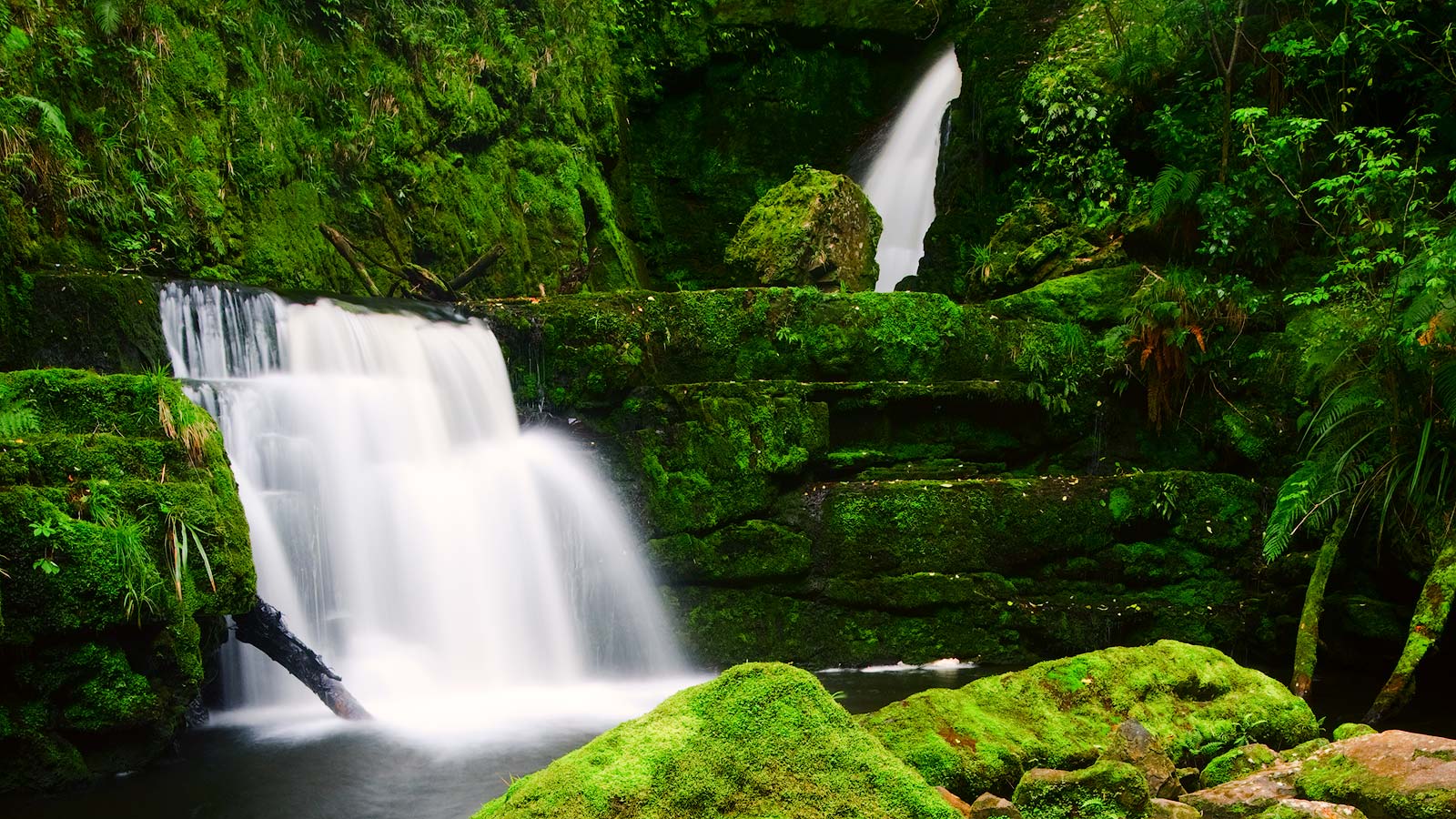 LExp
Long Exposure Calculators for iPhone and iPad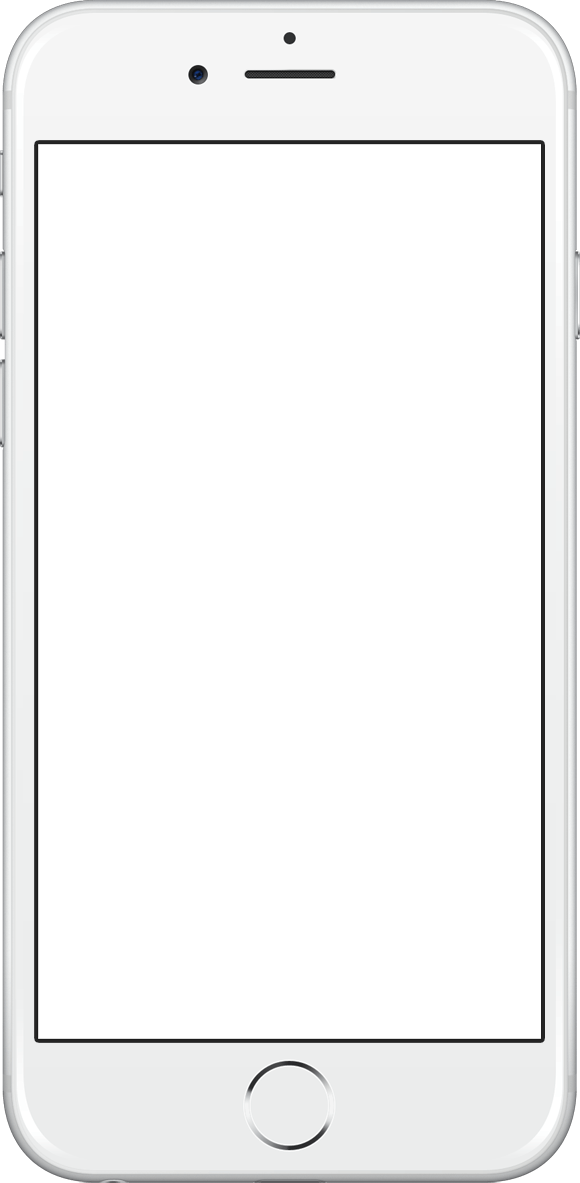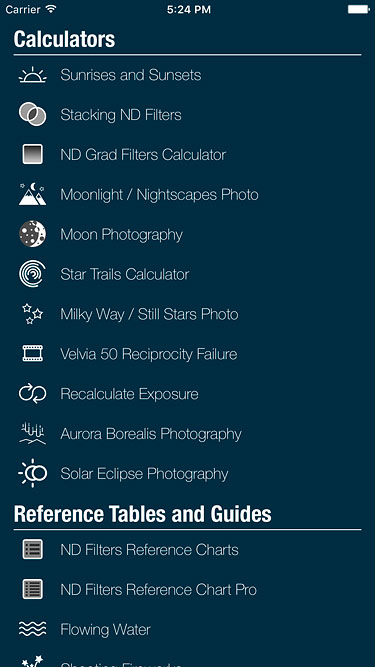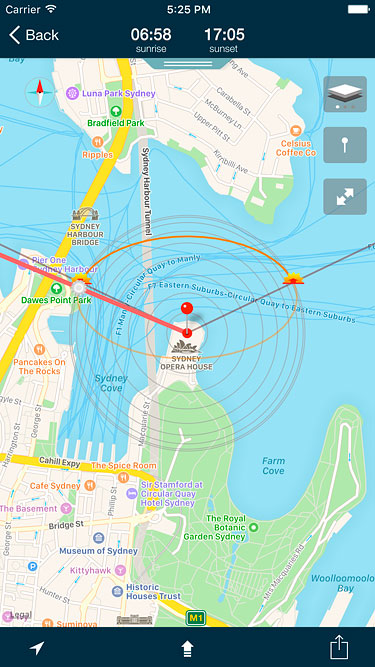 'Swiss Army Knife' for
Long Exposure Photography
LExp or Long Exposure Calculators is a must-have app for any landscape photographer who is shooting with ND filters or with long exposures or at night. All important calculators, reference tables and cheat sheets in one place. Select your shooting parameters and the app will do the rest for you!
Easily calculate exposures with Neutral Density (ND) filters, in low light and at night.
Well known and quite popular ND Filters cheat sheets and much more.
Rise and set times, twilights and magic hours in The Photographer's Ephemeris ® (TPE) style.
This application has been built by a photographer for photographers, based on your requests, suggestions and feedbacks.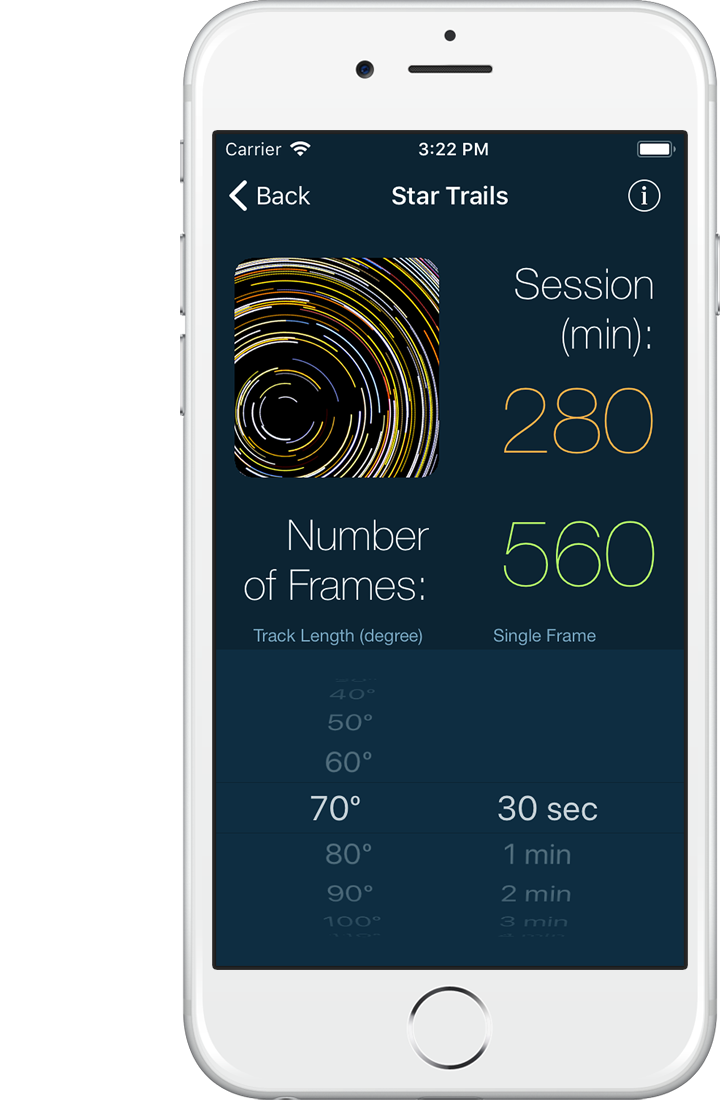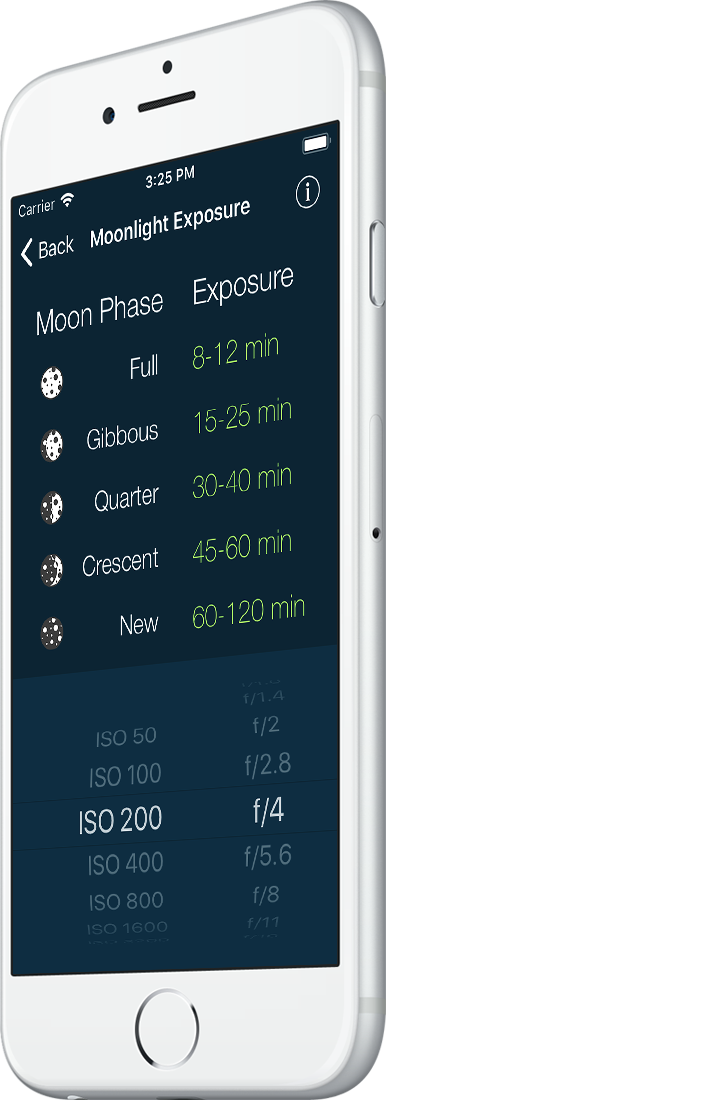 CALCULATORS
Sunrises and sunsets, Stacking ND Filters and Graduated ND Filters, Nightscapes and Moon Photography, Star Trails and Milky Way calculators, Aurora Borealis Solar Eclipses calculators, Velvia 50 Reciprocity calculator and more.
Sunrises and Sunsets
Sunrise, sunset and sun direction for any day at any location. Instantly see how sunrise and sunset positions change throughout the year. Civil, nautical, astronomical twilight times.
Stacking ND Filters
Need to stack multiple ND filters? It's really easy now. You can stack two filtes up to 20-stop each.
Nightscapes
At night your camera can see more than your eyes do. Get the right exposure for landscape photography under moonlight.
Milky Way
Want to take a beautiful photo of the Milky Way galaxy and starry sky without star trails? Calculate the maximum exposure time to get stars as bright spots.
Star Trails
Want to capture beautiful start trails? Get the right number of shots for stacking them later. Preview how stars rotate and the angle they describe in a given exposure time.
Moon Photography
Calculates right exposure for the Moon under different conditions and focal length.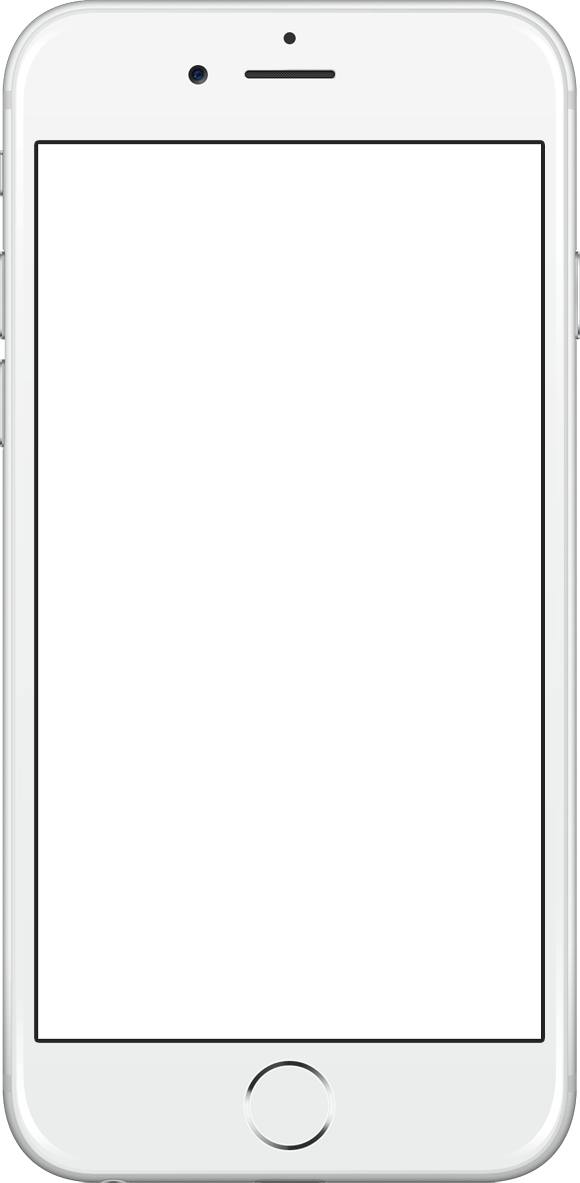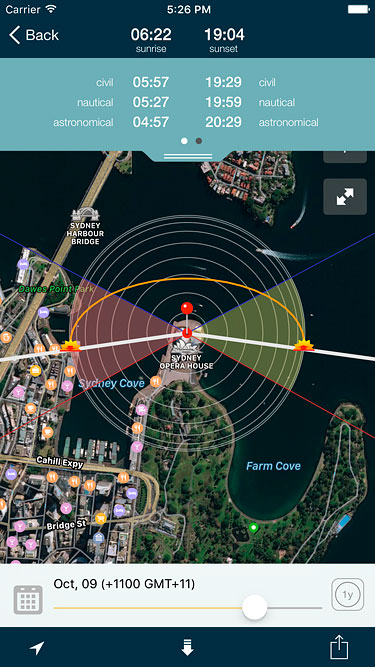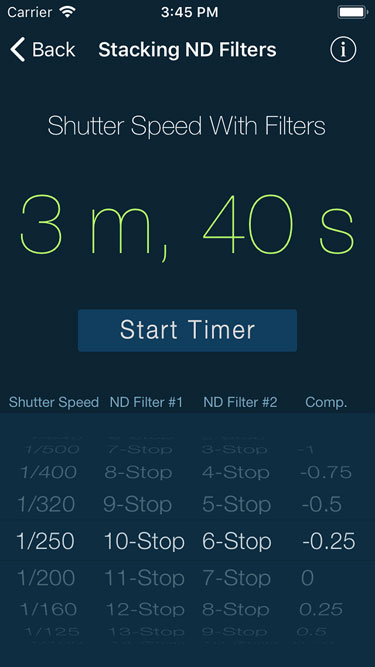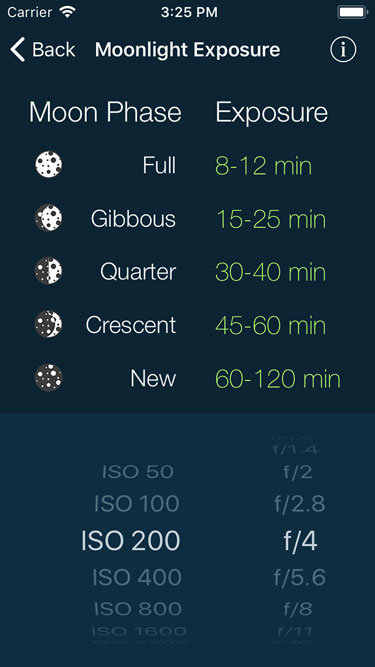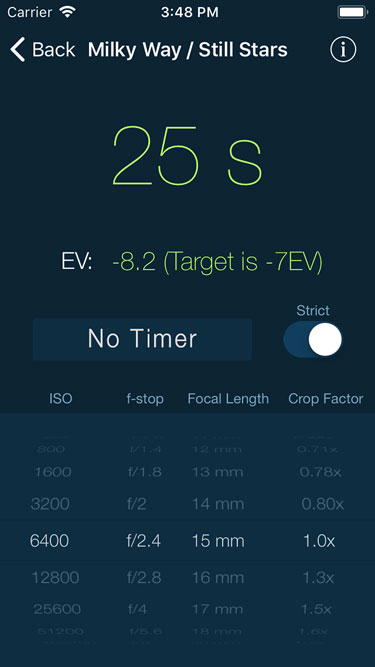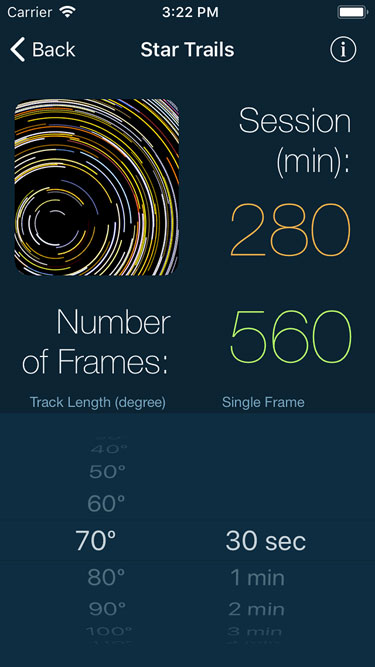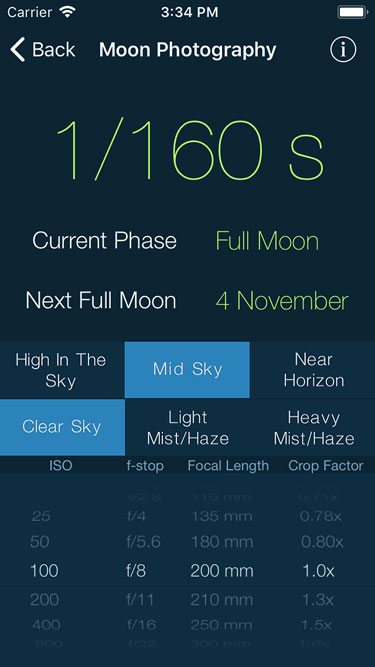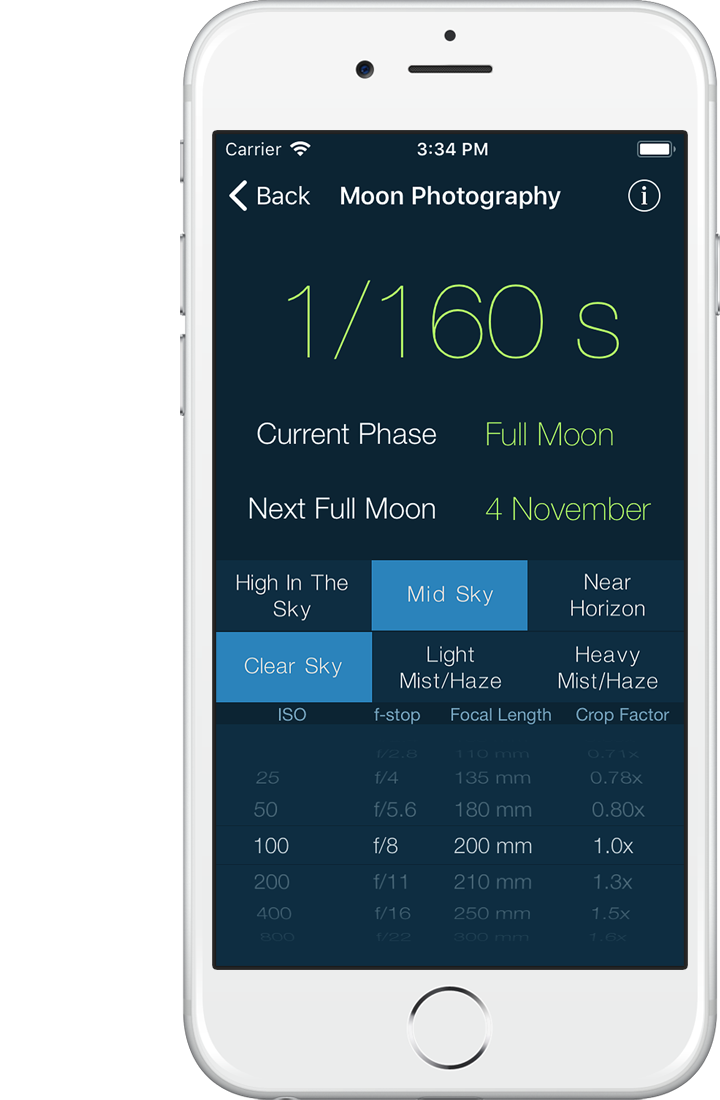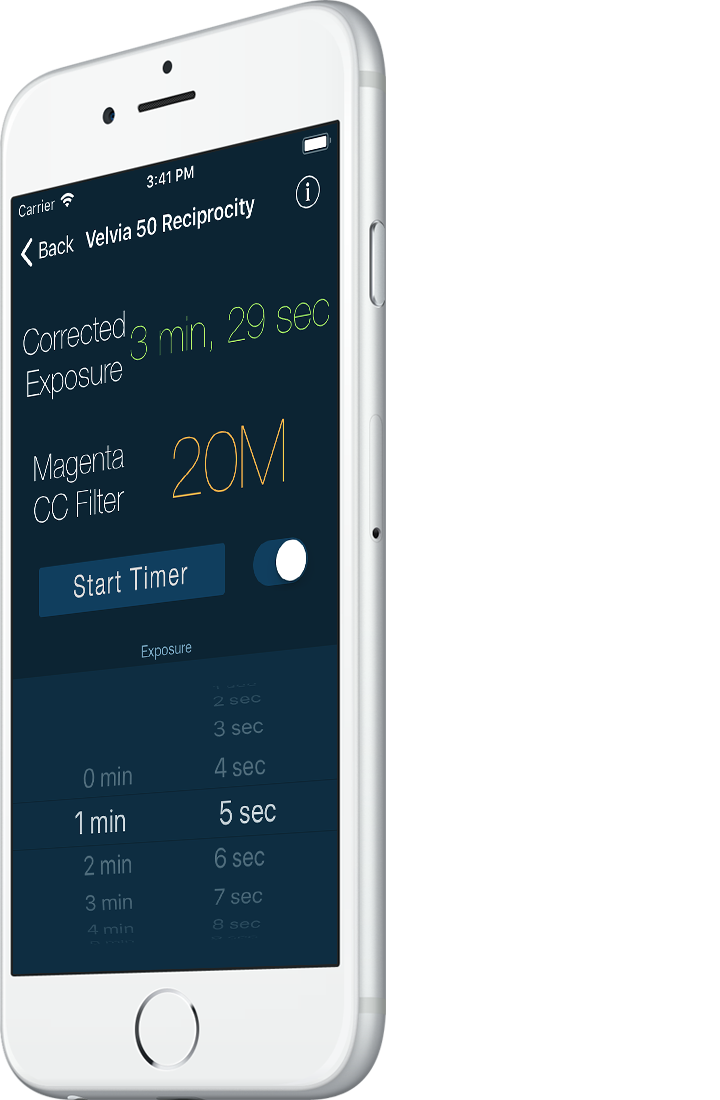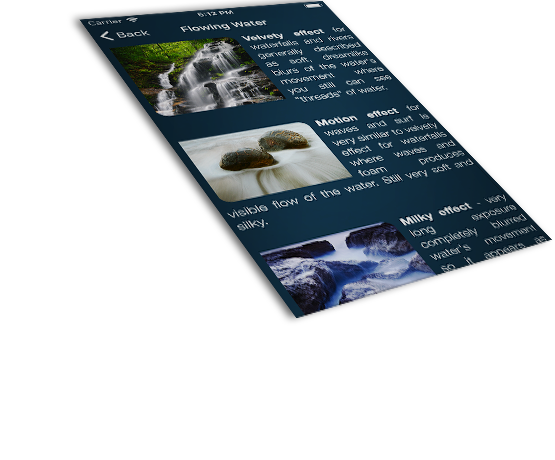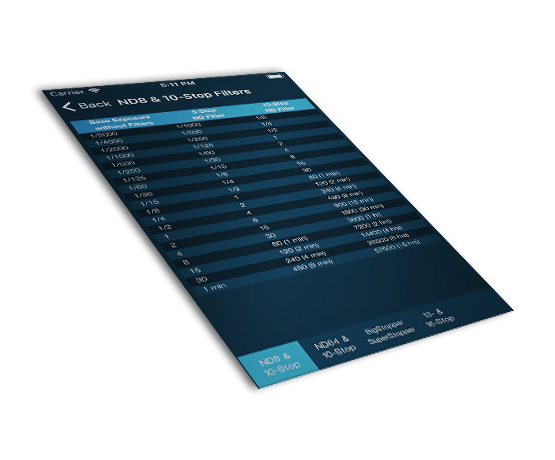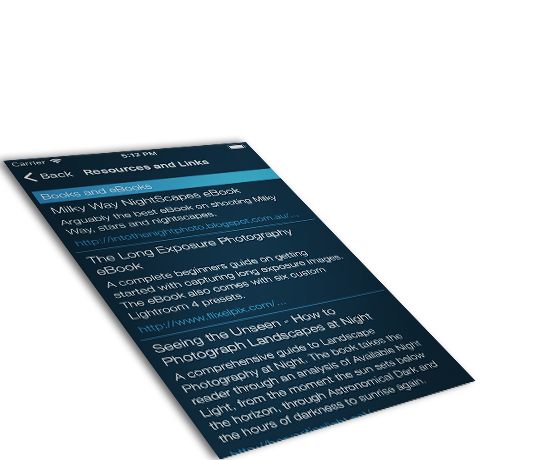 Great app
I recently invested considerable sum into the Lee filter system for my Nikon D800. This app is a perfect match, allowing me to quickly calculate proper exposure for various filter combinations. While I have yet to shoot in the field since getting all my filters, I've played with the app enough to know it will be quite handy. It also got a recent update, so its nice to know development is active.
Must have!
Not just a calculator. Excellent multitool with lots of professional tools for many photo/video needs. Important - each instrument has own very informative and helpful HELP menu, as well as a learning base. Beside that - quick, professional and friendly customer support. Highly recommended and huge respect to authors and developers!
Great application
I am professional nature and landscape photographer and this application is must have for me. I often use it for calculating exposure for star trails images and still stars too. I don't use ND filters but ND grad filters calculator is also very useful. Other strong side of the app - very good documentation and great library of useful links on photography resources.
Really useful
I use it as a pocket reference guide. It's really easy to use, especially when you are not an expert on doing the required calculations for neutral density filters.
Questions answered!
This app will not make you a photographer, but it will help you create photographs. Awesome help, thank you!
A very handy tool
This is a great tool to use for night photography and blurred or frozen motion. Goes into great detail to explain how to capture stars across several popular techniques. I love this app.
Very useful
If you are serious about long exposure photography - this app is definitely for you. Simply love it!
Perfect!
Takes the guess work out it, less trial and error. It allows you to be more efficient, accurate and productive. Easy to follow with the information you require at your finger tips.
This is the one!
Tried a few similar apps but this one is the best for me. Easy to use with many functions and clear explanations! Thanks.